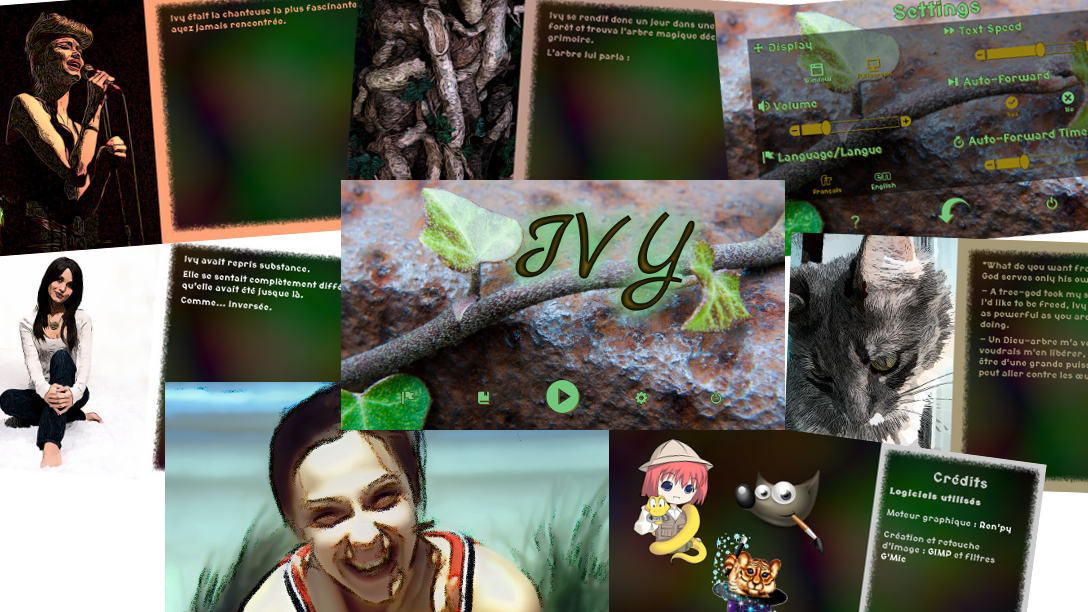 Ivy
A downloadable game for Windows, macOS, and Linux
Ivy is a very short kinetic novel (visual novel with no choices) made with Ren'Py visual Novel Engine
License
Creative Commons BY-SA (images and music may have different licenses CC-BY, CC-BY-NC, CC-BY-NC-SA, check in-game credits for more info)

Story
Ivy is a famous and adored singer, but her glory comes from an "unnatural" cause. How did she get that power, and can she get rid of it?
------------------
Ivy est une chanteuse célèbre et adulée, mais sa gloire n'a pas une origine tout à fait "naturelle". Comment a-t-elle acquis son pouvoir et peut-elle y échapper ?
Process
I make short stories by picking up arbitrary pictures on Flickr (under Creative commons license). Then I try to imagine the story that goes with them.
Ivy was my first project.
------------------
Je travaille à partir d'images sélectionnées de façon arbitraire sur Flickr (sous licences Creative Commons) à l'aide d'un mot-clé choisi selon l'inspiration du moment. J'essaie ensuite d'imaginer l'histoire racontée par ces images...
Ivy était mon tout premier projet avec cette méthode.

Features
1 078 words (about 10 minutes reading) / 1 070 mots (une dizaine de minutes de lecture)
6 images for the story (+1 for titles) / 6 images supports pour l'histoire (+ une image pour les titres)
5 music pieces / 5 pistes musicales
2 sound effects / 2 effets sonores
Languages : French and English translation / français et anglais
Install instructions
Windows users : extract files and lauch "Ivy.exe"
Mac OS X users : extract files and launch "Ivy.app"
Linux users : extract files and run "Ivy.sh"